Manufacturing and Construction of Vehicle Bodyworks.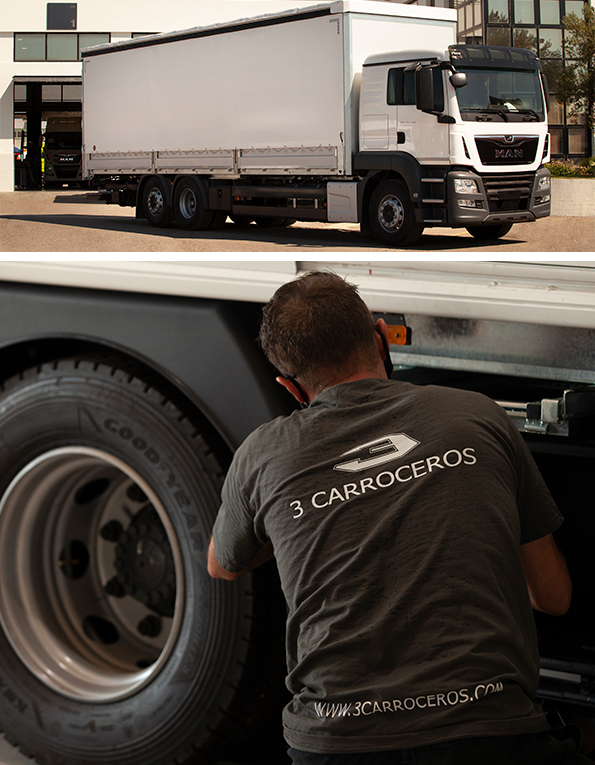 We are specialists in :
Manufacturing and construction of high-quality bodyworks; Technical type-approval projects; Technical advice for the acquisition of your new vehicle; Bodyworks and repair.
We have been manufacturing high quality bodies since 1990.
Founded in 1990, TRES CARROCEROS was conceived as a bodywork construction and repairs company, to which, throughout its long history, different products have been added.
In the early 2000s, a great leap was taken in the search to reduce weight in vehicles. Thus, our integral aluminium bodies were born, which combine our experience in repairs and the robustness of the bodies we manufacture.
In the first decade of the century, we continued to develop our products, adding different models to our catalogue, and growing as a company. We sought to reduce manufacturing costs and the standardisation of products, a search which resulted in the bolted frame chassis. Therefore, we are able to offer our customers an advanced personalisation of their product, without increasing the price.
Currently, we are equipped with our own laser cutting machine and a hydraulic press brake that allow us to be versatile when designing new products and reduce production times.
We have become manufacturers of bodies for light and heavy vehicles of proven quality, but we are always looking ahead and constantly trying to improve.
Contáctanos sin compromiso
Timeline
1990 – Foundation
Born in Quart de Poblet, 3 Carroceros, S. L., a company dedicated to the construction and repair of bodies for industrial vehicles.
2000 – Aluminium Construction
At the beginning of the first century, we built our first integral aluminium body, an original design of very high quality, tried and tested by many of our customers.
2006 – The path to modernisation
We began implement computer-assisted design, providing versatility in the way that we design our products. Later, we launched our first heavy goods vehicle with a bolt-on steel frame.
2007 – Agreement with the Fruehauf network
3 Carroceros entered the Fruehauf network as a construction partner, directly in its Aranjuez factory, with our curtainsider and semicurtainsider bodies.
2012 – 3 Carroceros Store – Online Store
During this period, the 3 Carroceros Store was founded, an official online store that allows its customers to buy replacement parts and accessories for their vehicles.
2015 – One small step
With the advances in 3D design together with our extensive experience in vehicle repair and construction, 3 Carroceros developed our first separated axel trailer chassis.
2016 – Laser and Hydraulic Press Brake
The acquisition of this new machinery expanded our creative horizon and allowed us to take our designs to a new level – thus creating a turning point in our product development.
2017 – Agreements with manufactures
As we sought to broaden our horizons, we increased the different agreements we have with other manufacturers. Certifying us as authorised lorry bodybuilders and allowing us to become part of the network of Official Bodybuilders of major brands.
2018 – The catalogue grows
Added to our already extensive catalogue are new trailer and semi-trailer units made of hot-dipped galvanised, high-strength steel, manufactured and built entirely within our facilities.
2020 – 30th Anniversary
From 1990 up until today, we have been offering our customers solutions for bodies and chassis. Two generations leading the way and facing the adversities that have occurred this year head on.
Proven quality
Since 2003, 3 Carroceros has held the ISO 9001:2015 certificate in the design, manufacturing, repair and replacement of bodies for industrial vehicles. Since 2010, we have also been certified by the Unidad de Certificación del Automóvil (UCA) which ensures compliance with regulations and accredits us as manufacturers.
Process Quality
At 3 Carroceros we have always been committed to the quality of our products, therefore, from the very start of any project, we work with the appropriate tools and systems so that the final result lives up to the client's expectations.
Final Quality
Before any of our products leaves our factory, we put them through a thorough review.
Do you need assist for your chassis or bodywork?
Technical Projects and Type-approval – Repairs workshop – Installation of tail lifts – Installation of loader crane and auxiliary systems.
Contáctanos